Description
Womens Coat Warm Double Breasted Woolen Lapel Long Sleeve Women Long Coat Discount Online Shopping – discount Womens Coat online shopping
When will your Womens Coat order arrive?
Step 1
Confirm payment
0 - 3 business days
Step 2
Process order
1 - 3 business days
Step 3
Package order
2 -10 business days (depending on stock availability or custom-made items)
Step 4
Shipping
Airmail
10 - 20 business days
EMS
5 - 9 business days
Total
Airmail
13 - 36 business days
EMS
8 - 25 business days
For holiday season orders, there may be a delay of 2-4 weeks.
Tips : If you need this item urgently or if you wish to order in bulk, kindly contact us before ordering.
Features:
Material: Wool
Pattern: Solid
Season: Autumn & Winter
Specifications:

The fashion women woolen long coat can match with most of your clothes
It is a must-have to keep warm and in a good mood
The women double breasted coat can make you stay in the forefront of style
It can keep you warm and looking fashion forward and give you a super charming looking
Comfortable touching, assured buying and happy everyday
Size in Detail:


ClothType
Size
Clothes Length
Bust
Sleeve Length
Shoulder Width
Color
cm
inch
cm
inch
cm
inch
cm
inch
/
L
76
29.92
92
36.22
61
24.01
38
14.96
N/A
/
M
75
29.52
88
34.64
60
23.62
37
14.56
N/A
/
S
74
29.13
84
33.07
59
23.22
36
14.17
N/A

NOTE:

Measured size refers to the followed measurement image
Because of measuring by hands,errors must have been existed, controlled from 1 to 5 cm
These dimensions are for reference only; specific dimension varies from person to person
How to Measure: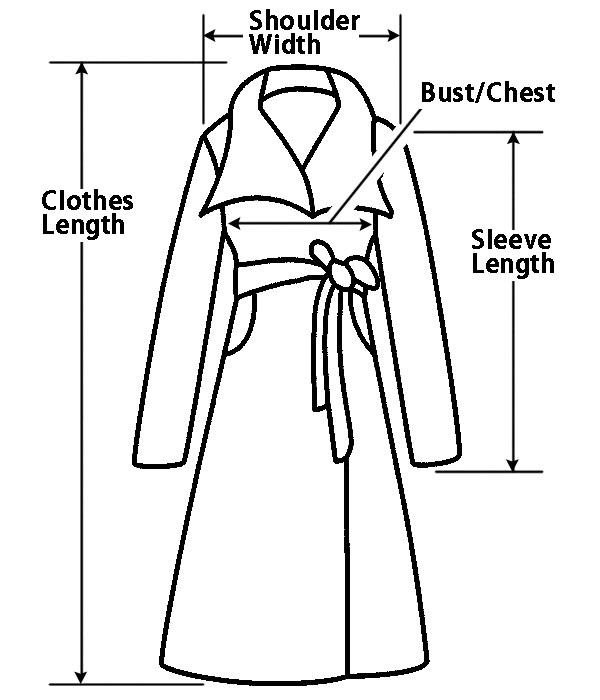 Details: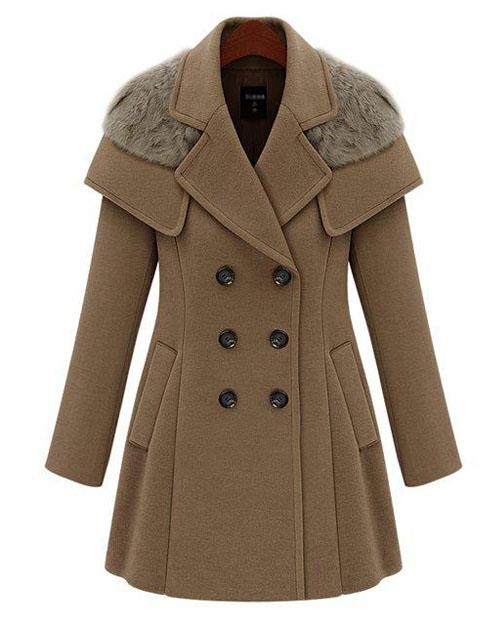 The exquisite workmanship, fine quality can really make you feel warm in the cold winter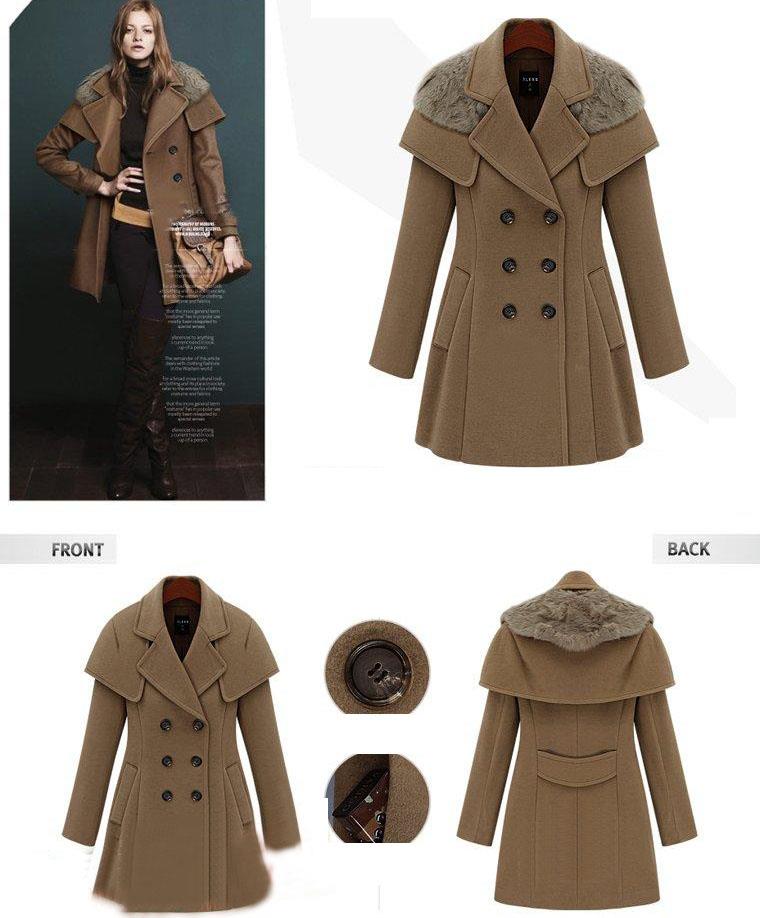 Embedded with chic modern designing patterns, this kind of women double breasted long coat will feel both fashionable and gentle

The women double breasted coat can make you stay in the forefront of style

This stylish long coat is sure to keep you warm and help you stand out through the winter
It is fitted and very slimming
It is also a good gift for your girl friend
How to Wash:

Wool is a miraculous fiber in that it can carry a large amount of moisture without changing the integrity of the insulation properties. Wool was often used by those who lived in cold, damp climates or those who worked out at sea. Now, wool is still utilized for its warming properties as well as its style. However, wool is notoriously difficult to both keep clean and keep from shrinking. Dry cleaning is best for your wool items, but there are also methods you can employ at home as well as long as you have a front-loading washing machine
•l Always check the wash care label and realize that when you wash your wool coat yourself, you are taking a bit of a risk. Wool is often mixed with other fibers such as lycra or cotton. In this case, you should still treat and wash your item as if it were pure wool
•l Test color fastness on your coat by pressing a damp cotton ball to the fabric. If any color is transferred, plan to wash the item by itself
•l Avoid shrinking and felting by washing your coat in the wool-washing program on your washer. If your machine does not have such a program, improvise by choosing a washer setting with a warm temperature and a high water level so the coat is allowed more suspension and less pull
•l Choose a mechanical setting on your washer that is medium drum action with frequent rests to allow any fibers that tighten to relax
•l Do not use regular laundry detergent for your wool coat. Choose a brand that is specifically meant for wool washing, such as Woolite. You can find one in the laundry section of your local store
•l Remove your item when it is through washing and lay it flat on a towel or other absorbent cloth to dry. Some reshaping may be necessary when laying it out. Keep in mind that the garment will maintain whatever shape it dries in, so make sure it is wrinkle free when laid out. Allow it to dry thoroughly before wearing it
Package Included:
Stock and availability shown on this site is for your reference only. While we strive to provide the most accurate and timely stock and availability information, this information may become out-dated or may change between the time you added an item to cart and the time your order is processed. Prices are current at time of posting but we reserve the right to change prices at any time without notice
Best Womens Coat bestseller include Womens Coat Warm Double Breasted Woolen Lapel Long Sleeve Women Long Coat Discount Online Shopping online shopping with worldwide shipping.