Description
Womens Blazer Cotton Casual Stripe Long Sleeve Slim Women Blazer Discount Online Shopping – discount Womens Blazer online shopping
When will your Womens Blazer order arrive?
Step 1
Confirm payment
0 - 3 business days
Step 2
Process order
1 - 3 business days
Step 3
Package order
2 -10 business days (depending on stock availability or custom-made items)
Step 4
Shipping
Airmail
10 - 20 business days
EMS
5 - 9 business days
Total
Airmail
13 - 36 business days
EMS
8 - 25 business days
For holiday season orders, there may be a delay of 2-4 weeks.
Tips : If you need this item urgently or if you wish to order in bulk, kindly contact us before ordering.
Features:
Material: Cotton
Pattern: Stripe
Specifications:
The Stripe Blazer is stylish and can always keep you in fashion
To decorate your body perfectly, this Stripe Blazer can fit for you
In the early spring or cool autumn, the Stripe Blazer can be put into use
The design of the Slim Blazer can meet your versatile needs
Wearing this blazer, your temperament can be set off
Size in Detail:


ClothType
Size
Shoulder Width
Bust
Waist
Hem
Sleeve Length
Length
Color
cm
inch
cm
inch
cm
inch
cm
inch
cm
inch
cm
inch
/
Average Size
36
14.04
88
34.32
N/A
N/A
N/A
N/A
58
22.62
53
20.67
N/A

NOTE:
Measured size refers to the followed measurement image
Because of measuring by hands, errors must have been existed, controlled from 1 to 5 cm
These dimensions are for reference only; specific dimension varies from person to person
How to Measure: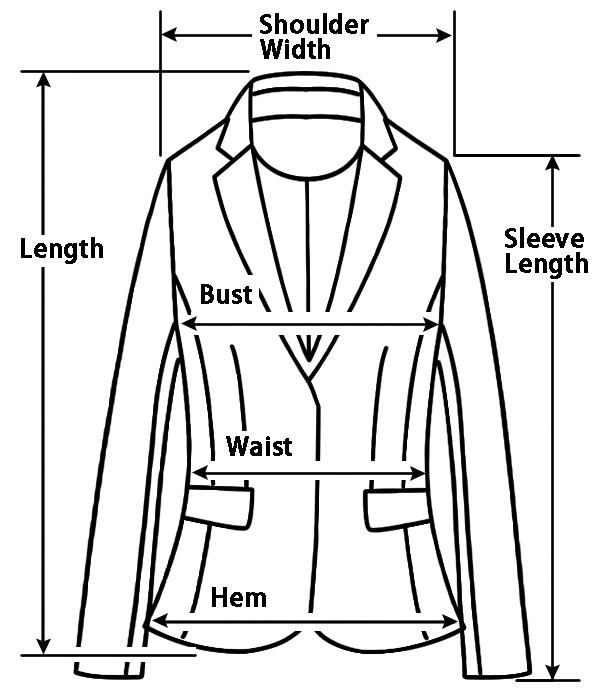 Details: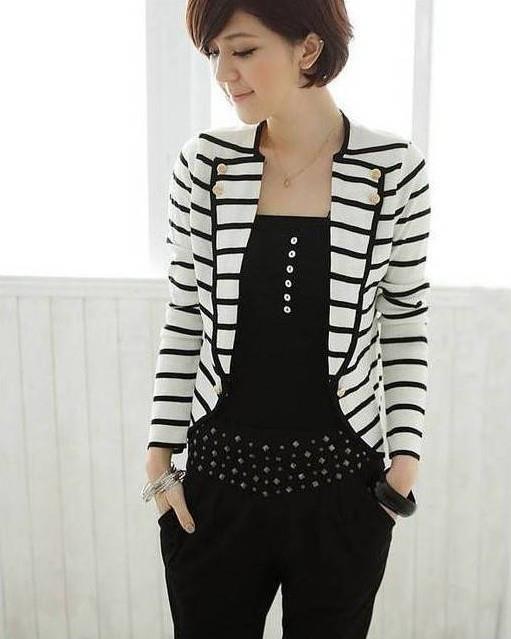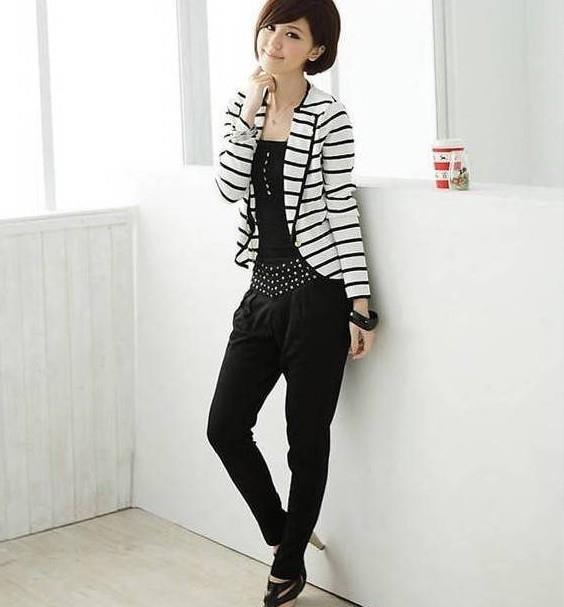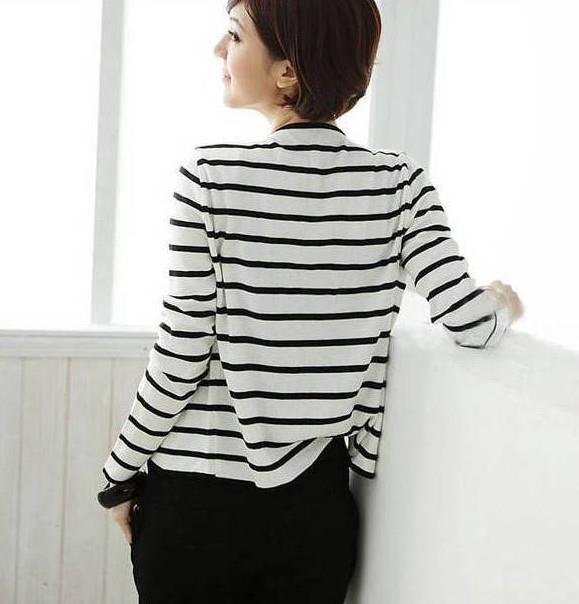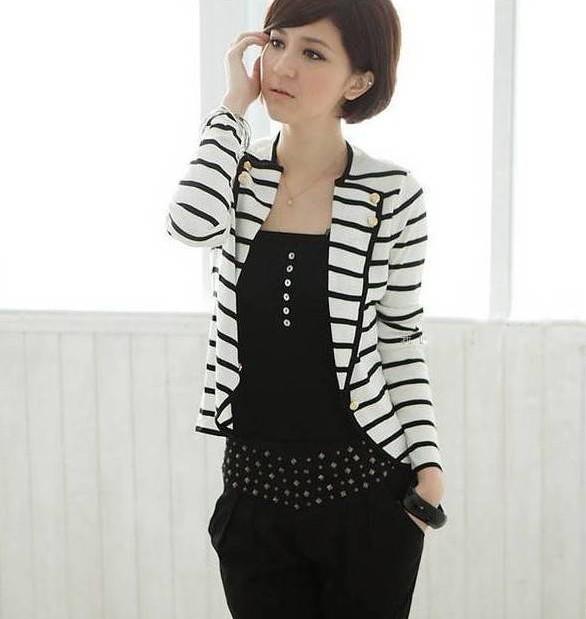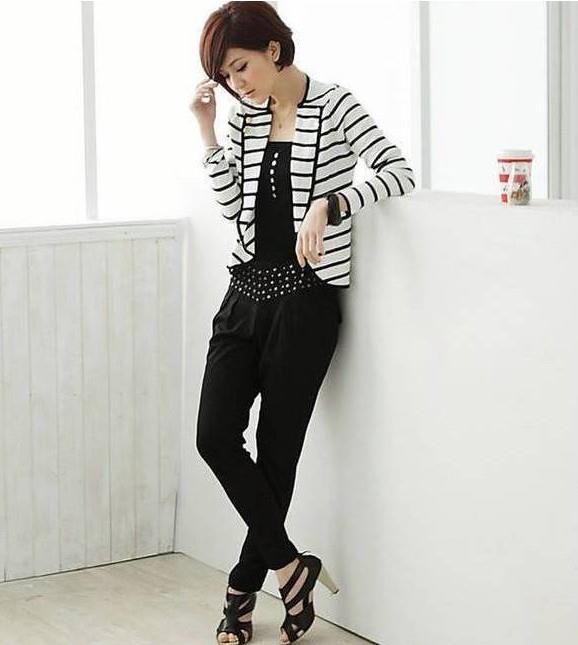 Package Included:
How to Wash:
Cotton is a durable, soft fiber, and most clothes today are made of it. Cotton is a natural vegetable fiber knitted and woven into fabrics of many textures and weights. While cotton shirts, pants and suits are wardrobe staples for both men and women. Whether your cotton fabrics are voile, organdy, batiste or linen, you can wash them at home and keep these breathable materials clean and pristine.
•l .Pretreat any stains with detergent and cold water. Place one to two teaspoons of liquid detergent on the stains before you load the clothes in the washing machine. Put your cotton fabrics in a small basin filled with cold water. After soaking the fabric for 15 to 30 minutes, gently rub the stain with a short-bristled brush. Roll your shirts, pants or blouses in a large towel to remove the water
•l Machine washes white and light-colored cotton fabrics in warm or hot water. If you are concerned with shrinking or bleeding, fill the machine with cold water and use a gentle washing cycle
•l Rinse your cotton fabrics on a cool cycle. Use minimal agitation to avoid shrinkage
•l Shake garments after removal from the machine to remove wrinkles
•l Dry cotton fabrics at a low or regular dryer setting. Dry towels and underwear on a hot setting. To prevent shrinking, remove cotton fabrics from the dryer while still damp. Hang in a cool and well-ventilated area to dry
Hand-wash lightweight fabrics, such as batiste, organdy and voile in a small basin filled with lukewarm water and one tablespoon of liquid detergent. Hang to dry or press damp with a hot iron to remove wrinkles
Stock and availability shown on this site is for your reference only. While we strive to provide the most accurate and timely stock and availability information, this information may become out-dated or may change between the time you added an item to cart and the time your order is processed. Prices are current at time of posting but we reserve the right to change prices at any time without notice
Best Womens Blazer bestseller include Womens Blazer Cotton Casual Stripe Long Sleeve Slim Women Blazer Discount Online Shopping online shopping with worldwide shipping.